I am so thankful for this long weekend. I have not done much of anything except rest, but I have really needed it. I have had the worst cough for about the last 6 weeks. I have just been so run down from it. I mean, who knew a cough could make you so tired that you would need to come right home and go to bed? But with some rest, steroid shot, antibiotic shot, antibiotics, dozens of cough pills, 2 bottles of Robitussin, 2 bottles of Tussinox, cough drops and tons of prayer it looks like I am over this dreadful cough.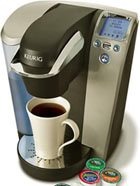 Jeff bought me the Keurig coffee maker for Christmas. This is the best gift! Since I am the only coffee drinker in my home it makes perfect since! It makes it so easy to drink the unlimited supply of tea with honey too. This should be an essential in everyone's home.
This weekend I am going away with a friend to a scrap booking retreat and I can't wait. I will just have to secure a box big enough to take my Keurig with me!